After staying in Nepal over 2 months, I went to India again. In that time, I planed to visit the places except North East.
First I visited Varanasi with some expectations and uneasiness. I felt nervous. So I stayed in the Japanese Inn*. I guess that it was my first time to stay in the Japanese Inn in this traveling. I was surprised that all guests were Japaneses. Yes, it was a natural result.
*Japanese Inn… The Inns the owner is Japanese or they have some staffs who can speak Japanese. Maybe.
I wanted to go to the ganga. So I had planed to see the sunrise… but I ended up bathing in ganga with other guests.
I had decided not to bathe in the ganga absolutely… I wasn't a hindu**. I wasn't religious so much. I really didn't like to get any diseases. But… how weak willed I was… changeable mind…
**Varanasi seem to be also buddhism's holy place.
So I tried to bathe there. Because we knew how dirty was the ganga, we could enjoy it with bathing a little… but I cared about other people (I think that I was too self-conscious). I thought Japanese got looked down on them.
Then the japanese staff who was working in the Inn we stayed came to us. To swim to other side.
Yes, I availed oneself of it.
One way… it took around 40 minutes? There were many boats to come back on other side, but I made a around trip. By breaststroke.
I was satisfied with the praise by some local people.
I did that because of my young mind like college student. I won't do it any more.
By the way, the sunrise and sunset was super fantastic!
How mysterious they were… the humidity made me feel it more.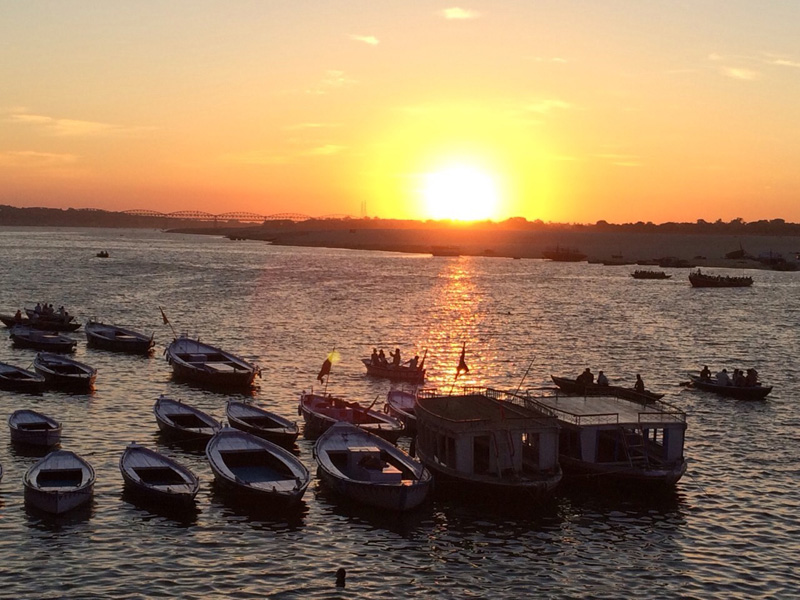 I washed my underpants I wore in ganga, but I ended up throwing away it.
I'm sorry, the Inn.